So now we have our sweet little boy back, and I cannot get near him!
I am not trying to toot too many horns here, but I have been around animals all my life. I was the little girl that any and every stray dog would find, and follow me when I walked home.  As a young(er) adult I did animal control for a couple of years in a no kill/low kill shelter. We caught a colony of 23 feral cats of all ages, brought them into the shelter and had them altered, wormed, vaccinated, and microchipped. 6 months later we had socialized and adopted out all but about 6.  Those cats were moved into a double condo cage and re-introduced to the outdoors (behind the shelter). They were rolled out every morning and rolled inside every evening for about a month. Then they were released to live out their sweet little lives outdoors (behind the shelter, lol)  We had bought a big doggie igloo house, made sure it was insulated well, and had a cover in front of the door to keep them warm. We brought food to them twice a day… no cat in their right mind would leave that kind of set up.. they were all set!
Oops.. I deviated.. I am good at that. So now we "have" our boy back. Not in the traditional sense, but we knew he was alive, and we were pawsitively delighted that of all places, he chose us as his refuge to heal. I was totally convinced that he had pulled his leg. Maybe he got hooked up on something that he could not get out of. He had sprained or pulled it, right? From that point on, with few exceptions, over the next 3 weeks or so he lived in our yard full time. He would lay out on the lawn and watch us. We would work in the yard and there he was. Close enough to watch us, far enough for his comfort. If David was weeding, Huck would be there. If he moved to weed a different part of the yard, Huck would move also so that he could watch. It was really kind of comical.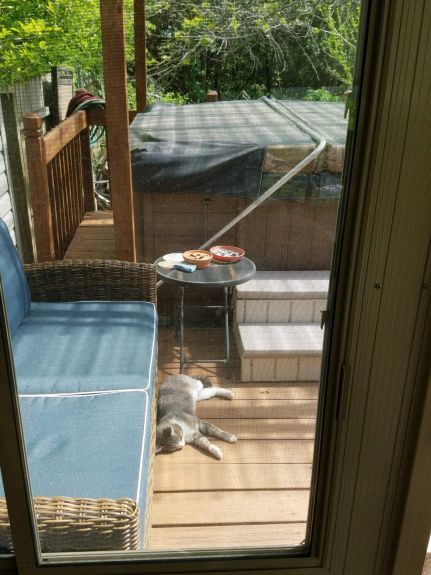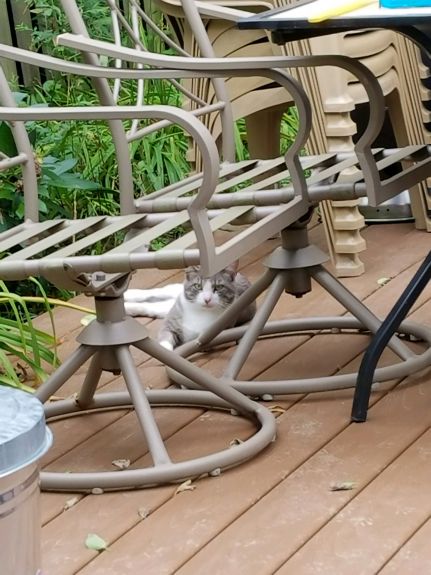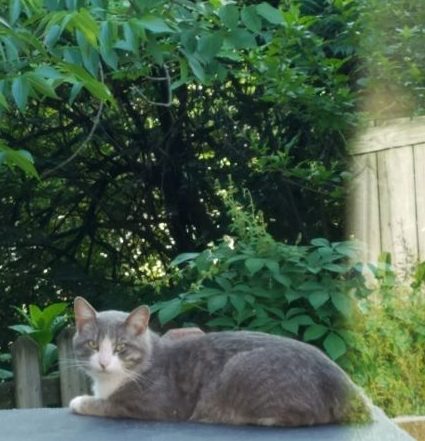 We fed him.. and fed him.. talked to him, tried to get close to him, and failed. And his leg did not get any better. It didn't get any worse either, but I was not happy. David and I had both silently come to the conclusion that he was a big priority in our lives. One day, we waited to feed him. Waited until he was good and hungry.. I went out back with some food and desperately tried to gain more trust so that we could take care of him properly. Patience has not always been my biggest virtue.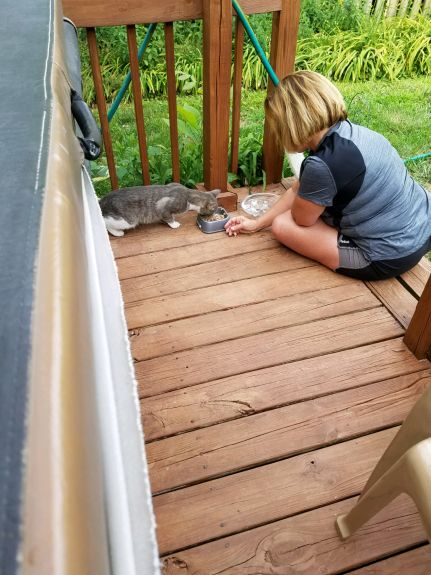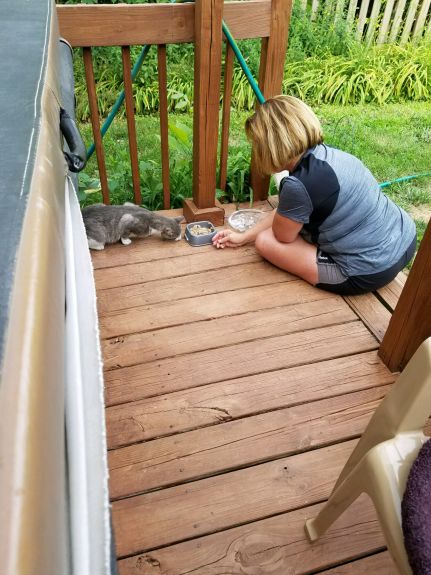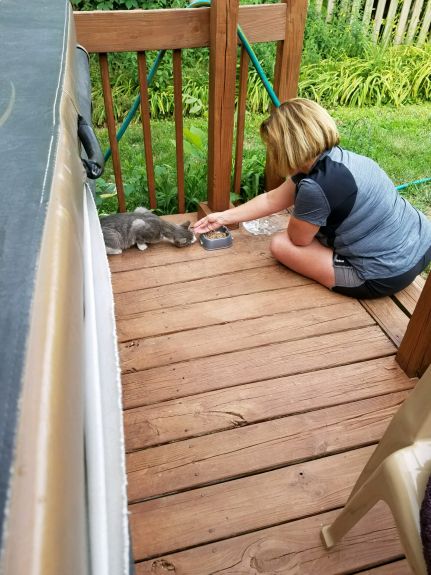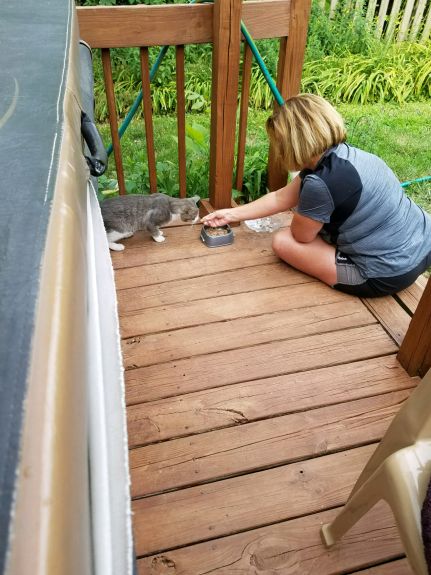 We got so close!! But not close enough. The pictures above are the closest I had ever gotten to him until we decided enough was enough. He was not healing, he was not getting better. He had stopped jumping on top of the hot tub to sleep, he just couldn't do it. It broke both of our hearts to see such a young, active animal suffer and start to decline.