Prince Huckleberry is rawkin' life on three!
We have so many here to thank for helping us through recovery, diligently advising us, and easing our fears as we transitioned and healed. September 6th 2017 was the day of the big capture and October 5th was the day that Huck let go of the leg that was just hanging there broken in two.
Watching him heal, learning trust, and accepting all of us as his new family has just been amazing. We have occasional jealousy and pecking order meetings (Oscar) but it is all good most of the time.
We even have Moe, Larry, and Curly napping together…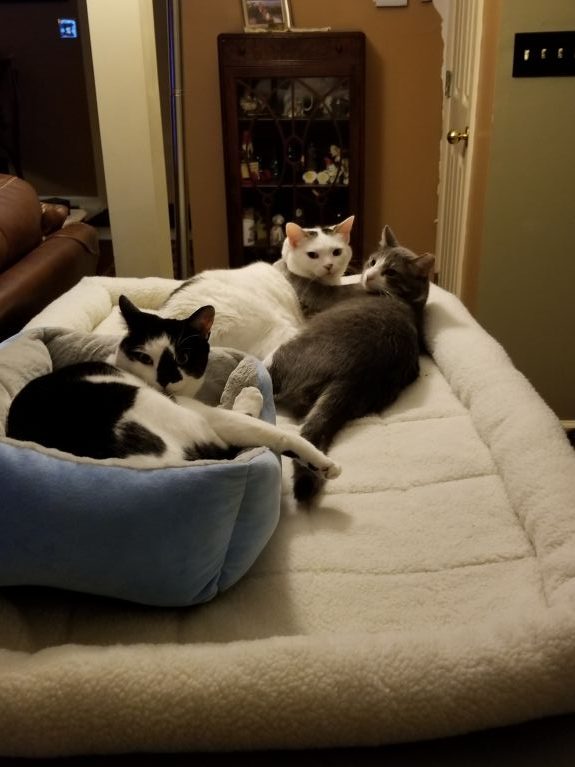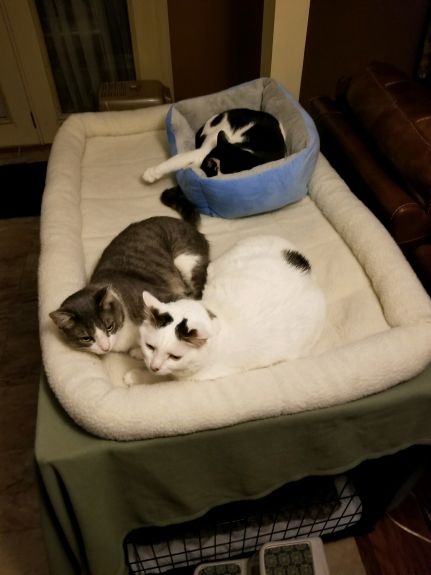 And on the other side of that doorway behind them is where is all started. Until a week ago, the door remained closed to the public since the big GOTCHA day. I guess I wanted to give Huck a good lead on growing roots as a family member. Ok, I was also scared to death he would see the door and want out! It is a three season room so it was easy to just leave the door closed except for when Mitch wants to go out or when Oscar just needs some "ME" time lol.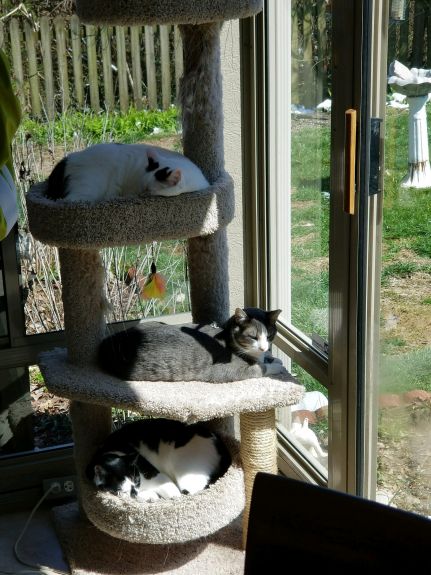 We have had some nice days though, and we can't keep the door closed forever. That really is Andy and Oscar's favorite room. It is also the room that Oscar and Huck tormented each other through the glass before Huck moved in, lol. As you can see, Huck is still quite content thank goodness. He did not go bolting for the door, he slowly and cautiously checked it all out, took it all in, and then found the cat tree 🙂 He has been quite content watching the fish, birds, and squirrels.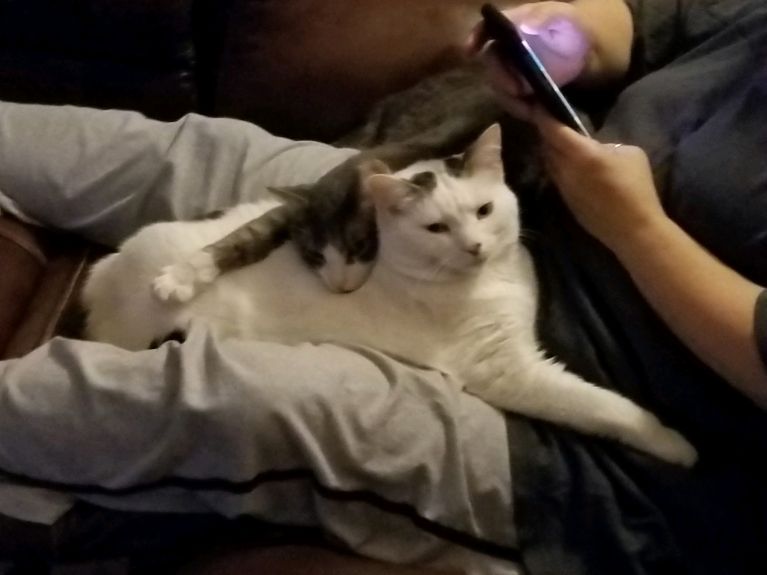 And at the end of the day he still loves cuddling with his big bro Andy and his peeps.
Huck and I have found the ultimate in kitty rugs! It originally sold on Amazon as a litter rug but it is SO much more than that! It is soft, sturdy, slip proof, and washable… what more can a tri kitty want? And on the "mama" end it is nice because it's a pretty rug 🙂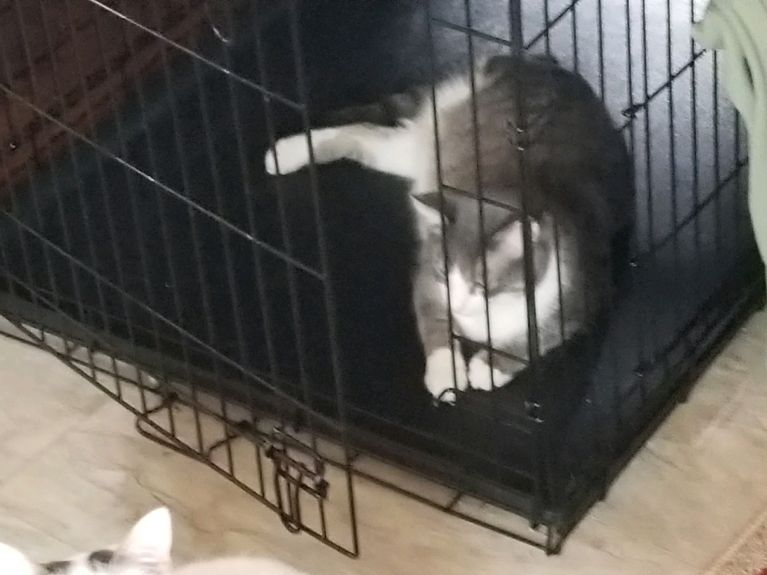 Memories…
We had to unpack his old castle to use for Mitch for a bit. Found this one afternoon while we were cleaning Mitchell's bedding. David and I both laughed… INSIDE the crate was the last place I would have thought he would go!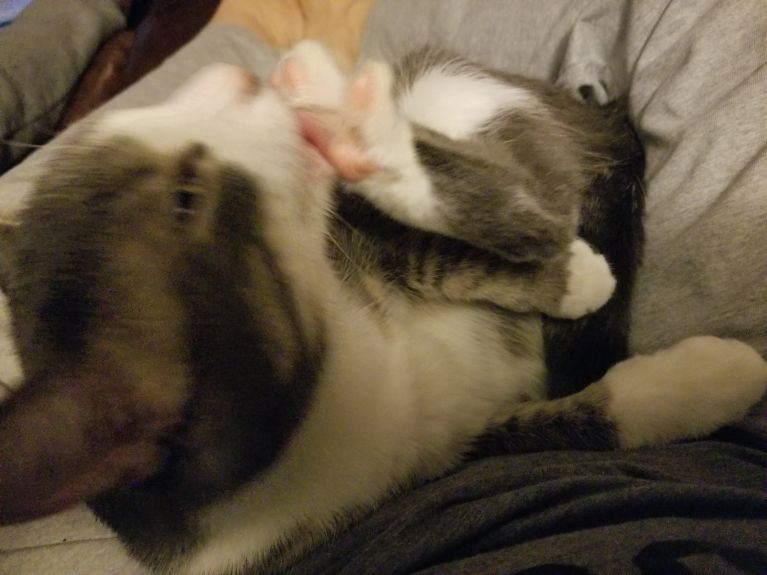 At the end of the day this is the normal routine. I get a full hand bathing after the Huck gives himself a bath.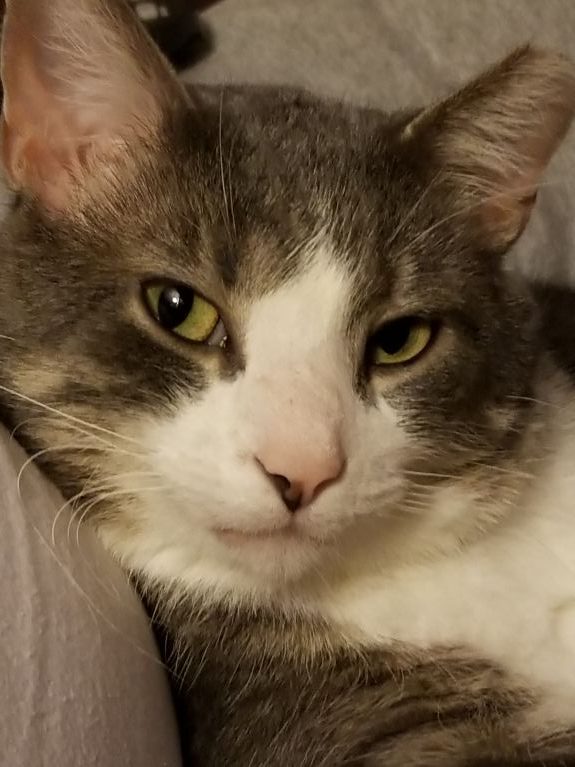 My handsome boy… he is such a ham when there's a camera around!
💖 Lots of love and hugs to all 💖
🐱🌟💖 💞🌈🐕